Join our Board!
---
---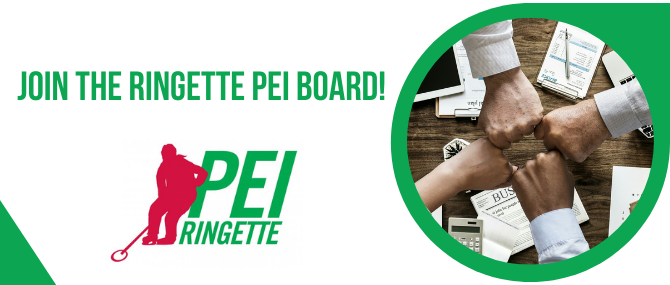 ---
Ringette PEI currently has openings on their board of directors for the following positions:
- President
- Secretary
- Officials Director
- High Performance Director
- Health and Safety Director
The following positions have been tentatively accepted for another term by the current occupant but are eligible to accept applications/nominations:
- Vice President
- Competitions Director
- Marketing and Awards Director
Positions are filled on a two year term. All duties required with each position are outlined below. Individuals interested in putting their name forward for a position can do so by emailing ringettepei@gmail.com. Please be sure to provide some info about yourself, outline your connection to the sport of ringette, any specialized skill sets you may bring to the board in the position, as well as your level of commitment to the board, i.e. attending monthly meetings, sitting on sub-committees, completing tasks outside meeting hours, etc. If you have any questions about being part of the Ringette PEI board they can be sent to ringettepei@gmail.com as well. Applications for all positions are due by Friday, May 13th, 2022.
Election of the new board members will be conducted at the Ringette PEI AGM on Thursday, May 19th, 2022.
PRESIDENT
Calling and presiding at all Executive and Board of Directors meetings;
Casting the deciding vote in case of a tie;
Appointing and monitoring special committees;
Monitoring the duties of other officers of Ringette PEI;
Conducting any business arising between meetings;
Representing Ringette PEI as required and ensuring that the decisions and concerns of the Board of Directors are raised accordingly;
Being an ex-officio member of all committees;
Being one of the signing officers;
Maintaining close contact with Ringette Canada and all its factions;
Being a member of the Board of Directors of Ringette Canada;
Maintaining close contact with Sport PEI;
Maintaining close contact with Prince Edward Island's division of Sport and Recreation, Department of Health & Wellness;
Scrutinizing correspondence and delegating to appropriate committees; and
Board Liaison with the Executive.
SECRETARY
Recording all minutes of all meetings of the Board of Directors and the Executive and ensuring a copy of said minutes is sent to all members of the Board;
Conducting all general correspondence of Ringette PEI, including minutes of meetings, any mail voting and record keeping;
Ensuring all notices of meetings are issued; and
Ensuring certificate of appointment forms are sent out to member clubs at least thirty days prior to the Annual General Meeting.
OFFICIALS DIRECTOR
Maintaining an up-to-date list of qualified judges, referees, scorers and technical monitors residing in the Province to include given names, surname, address, and qualifications;
Arranging for Officials clinics, courses and examinations;
Submitting a list of eligible candidates for the National examination to the Officials Management Team;
Maintaining a record of performance by each Official, i.e. numbers of competitions officiated each year;
Supervising or delegating supervision of officials at Provincial Competitions and Events;
Maintaining records of course attendance and exams on all levels and all relative information;
Providing officials for Provincial competitions and events;
Keeping the file on inventory of material needed and reordering when necessary from the NSO; and
Other duties as assigned.
HIGH PERFORMANCE DIRECTOR
Being responsible for overseeing the High Performance Program and the U12 Development program;
Working with the Coaching Chairperson to ensure high performance coaching staff have all necessary training and opportunities for professional development;
Meeting with high performance and development team(s) coaching staff annually in September to review the programs and expectations;
Overseeing the development and implementation of a strategic plan for the high performance program in consultation with all stakeholders;
Ensuring all teams are financially responsible and putting forth requests for funding on behalf of the teams;
Ensuring an appropriate transition for athletes from development program(s) to the high performance program;
Reporting to the board of directors on behalf of the high performance teams and the development teams;
Assisting with the coordination of the U12 Development Program including the design of the program from year to year and ensuring that the program is following all guidelines established by the RPEI board of directors;
Serving on the host committee of any regional event hosted on PEI for a development or high performance program
Other duties as required
HEALTH AND SAFETY DIRECTOR
COVID-19 duties (if any public health guidelines/restrictions are in place):
Gathering all contact information for all high performance teams and consolidating that data for Public Health in case of an exposure during the season
Coordination between RPEI and the local associations to ensure all up to date COVID-19 protocol information is forwarded in a timely matter
Ensuring all return to play guidelines and facility guidelines are followed to limit chances of exposure
Additional Duties
Assisting Ringette PEI in any health and wellness issues that may appear during the season (I.e. collecting concussion details, injury and accident forms)
Ensuring teams (both High Performance and regular league) have the most up to date information and forms for insurance and incident reporting
Making sure that teams have the proper certifications in first aid and keeping records of who is certified
Ensuring all High Performance Teams have the proper First Aid equipment needed to perform duties if necessary and indicating if purchasing of these supplies is necessary
To insure health protocols for facilities used by ringette are correct and current or up to date
Other duties as required
VICE PRESIDENT
Performing the duties of the President in the absence of the President or inability to act;
Assisting the President in every way in the operation of Ringette PEI's activities;
Updating the Bylaws, Policies and Procedures on an annual basis;
Initiating and monitoring long range planning; and
Being one of the signing officers.
COMPETITIONS DIRECTOR
Establishing a calendar of events, including league schedules and provincial playoff format, and sending to all registered clubs and Officials Chair;
Arranging for an event manager for each competition and competitive event;
Arranging for clubs to host the meets sanctioned throughout the year;
Being responsible for how events should be hosted;
Maintaining all materials necessary for events;
Drawing up a calendar of events for approval by the Board of Directors; and
Chairing the Game Protest committee;
Other duties as assigned.
MARKETING & AWARDS DIRECTOR
Being responsible for the coordination of all promotional activities of Ringette PEI including demonstrations and TV or radio interviews;
Maintaining a current media contact file and arranging for pictures and interviews when deemed necessary;
Preparing articles for newspaper, radio, and TV release;
Developing and preparing media kits for specific events;
Sending advance information to news media on Provincial Competitions and Competitive Events, meetings, clinics and other events, including Come Try Ringette;
Preparing write-ups on Provincial competitors attending events outside the province;
Being responsible for maintaining an active presence on social media by ensuring timely information and engaging with members, media, partners, and sponsors;
Ensuring the safe keeping of all Prince Edward Island trophies and awards;
Ensuring that all required engraving has been properly completed;
Ensuring that all trophies are in good repair when they are presented at the prescribed championship;
Purchasing and/or obtaining such awards as may be directed from time to time;
Keeping permanent record of recipients of all trophies;
Advising trophy donors annually by letter, the winner of and the location of her trophy;
Preparing a billing list for trophy engraving and keeper trophies for the Treasurer;
Sending out the call for nomination for annual awards;
Chairing the annual awards selection committee and assisting with the organization of the awards ceremony; and
Other duties as assigned.