Updates regarding practice, Dieppe/Riverview Tournament, and more
---
---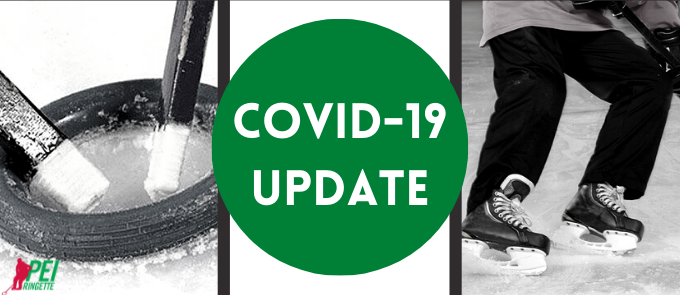 ---
Covid-19 Protocols - Sport and Recreation Sector
Effective January 31, 2022
Ringette will be permitted to return to team practices of 20 consistent individuals. See below for clarification on multiple groups on the ice at once and guidance for those athletes who participate in more than one sport or on multiple ringette teams.
Game play, tournaments, and travel are not permitted at this time for ringette teams. As soon as more information becomes available regarding game play, we will finalize and release our plans to move forward with the season.
General considerations:
Small gatherings are lower risk than larger gatherings
Outdoor gatherings are lower risk than indoor gatherings
Keep gatherings small.
Masking - all participants in any sport and recreation activity should wear a properly fitted mask while moving about in facilities and only remove the mask prior to participating in the activity or when putting on a helmet.
Reminder that the Vax Pass program continues to apply to:
Athletes participating in the +18 division
Spectators aged 12 years and older
Coaches and on ice volunteers aged 12 and older
Group activities where there is interaction within 6 ft and for which participants are both over and under 19 years of age.
Frequently Asked Questions
Is a participant allowed to participate in more than one activity or team as part of a consistent 20? Example - a player plays on two different sport teams (basketball and hockey).
Yes, a player can participate in more than one activity and team however if they are involved in a lot of different groups, participants should try and limit the number of groups they are participating in.
There are no specific restrictions to participating in more than one event or with more than one team in one day. Athletes should use their own judgement when attending activities with multiple groups and try to limit themselves to what they attend within one day.
Can parents assist younger participants who are with their consistent 20 and stay to view the activity taking place?
Parents can assist younger participants to get ready for their activity so long as the following is observed:
Parents must wear their mask all the time and physical distance as much as possible.
To support physical distancing, facilities should allow for extra space by allocating additional change rooms (if possible) to larger teams or groups and consider staggering use if possible.
Vax pass requirements are still in place for those 19 years of age and older and for groups where there are participants both over and under 19 years of age.
Parents can stay and watch the activity ensuring they are physically distanced while in the stands. There can be no more than 50 people in the facility space. Maximum number in the entire group is 50 (up to 20 consistent participants on ice and a maximum of 30 spectators and volunteers) - easiest suggested approach is to say maximum 1 parent per participant (only if needed).
We have a facility that can be divided into smaller parts and allow a variety of users or multiple groups use the entire space. Examples of this include a curling club with multiple sheets of ice, a hockey rink divided into half, or a gymnasium divided down the middle to use cross courts.
Yes, this is possible so long as the following parameters are in place:
There is a barrier of some sort to divide the space (lines, drop curtain, removable boards) that will keep the groups from mixing (6 foot physical distancing), each organized group in their space must be no more than a consistent group of 20 and the total number in that entire space is a maximum of 50 (including any spectators and physically distant volunteers)
The participants from the groups must also be able to physical distance in the areas outside of the field of play (ie. Change rooms, rest areas)
Physical distancing must be maintained while entering and exiting the facility and shared areas. Example - two teams are using half ice for a practice. There is a divider down the middle, so the teams do not mix. The maximum number on each half of the ice is 20 participants and the maximum number in the entire ice area (on-ice and stands) is 50 (players, coaches and parents).
Do the 20 consistent participants include coaches as well as participants or is it just the participants since they are the ones usually doing the interacting with one another?
It just includes the participants so long as the coaches and volunteers are able to physical distance from the players while doing the activity. If coaches and volunteers are part of the activity or are in close proximity with the participants and interacting with them consistently then they would be included as part of the 20.
Any team with more than 20 players must come up with a system to divide their team so they have a consistent group participating with each other. Example - A team has 30 players on a training team. That group can make two teams of 15 and continue to train as a consistent group of 15.
Can our consistent team scrimmage amongst ourselves or is it practice only?
Yes, your team can scrimmage within your consistent 20 only. Another team cannot be added to the activity to create two different teams playing against each other.
We have a league where small teams (ie. 10 players) usually play other teams, is this allowed?
No, league play is not permitted. Even though the team sizes are small and combined they are within the number of 20, they are not a consistent group and therefore this activity is not permitted.
However, if the small teams come together to form a consistent 20, then they can do their activity following all the rules related to consistent 20. They cannot juggle their groups day to day or week to week. That group must stay the same so long as these protocols are in place. Example - curling, if a club gathers on Mondays, so long as four or five teams (maximum 20 participants) play amongst themselves and stay consistent, they can do their activity in that manner.
What if someone tested positive on our team, is everyone considered a close contact and have to self-isolate?
Should anyone test positive on a team, they should let their coaches and/or manager know and then have the participants work through the scenarios listed in the link below to determine what they are required to do.
http://www.princeedwardisland.ca/testedpositive
The CPHO put out their guidance for all sectors as it relates to the January 31 protocols. They can be found here- https://www.princeedwardisland.ca/en/information/temporary-covid-19-measures
Statement from Ringette PEI regarding the Dieppe/Riverview 2022 Tournament and March Break:
With ringette returning to practice on January 31st, 2022, we are optimistic we will be able to return to game play in the coming weeks. With that said, if and when game play is permitted, we will have to use all ice time that is available to us in order to get in the games that are required to play out the season. This will mean what teams will have to be available to play games whenever possible, including the March 11th-13th weekend and during March Break. We do not have the option to black out this weekend and the week of March Break and still get the needed games played.
If the tournament is to go ahead, Ringette PEI will not be approving any travel permits for Island teams to attend the Dieppe/Riverview Tournament and those that were originally approved will now be considered invalid. This includes all teams, in all divisions, from U8 to +18. We know this is not what teams want to hear but we need to focus our efforts on providing meaningful competition on the Island for our teams. More information will follow regarding what our season could look like once we can return to game play.
Teams will be required to request tournament fee refunds from the tournament contact. Ringette PEI will also be in contact with the tournament committee to inform them of this decision.
Thank you for your understanding and cooperation,
Mike James
Ringette PEI President
Victoria Leard
Ringette PEI Executive Director